WHO WE ARE
Anchor Wetsuits is a family based company still owned and operated by the original owner, Rudolf Van Dort and his son Kim Van Dort. Anchor Wetsuits is the oldest wetsuit manufacturing company in Australia and we have been employing and serving Australians since 1966.
We pride ourselves on keeping abreast of changing needs and utilizing the latest materials to develop the best editing a paper designs to suit your needs.
Custom Making is available for many of our suits as is a full repair and alteration department for all brands of suits.
Anchor Wetsuits is a manufacturer and importer of quality wetsuits. We sell our wetsuits direct to the public which gives you – the buyer – a top quality wetsuit at the best possible price.
THE ANCHOR WETSUIT PHILOSOPHY
Anchor Wetsuits has become an institution in Australia. Our wetsuits have been bought by the public for over three generations. Over the 50 years we have been in business we have survived a number of recessions, dramatic social changes and technological advances. We believe we have flourished because we have always endeavored to provide our customers with a quality product that gives you value for money.
While times change, we adapt, making the most of latest technical changes to give our customers a quality product that endures from one generation to another.
History of Wetsuits

And the wetsuit was born…
In the year of 1951 Physicist Hugh Bradner embarked on creating what would be the beginning of a highly successful product used around the world, the wetsuit.
A wetsuit is predominantly made from foamed neoprene and is worn by surfers, spear fishers, divers, windsurfers, and a range of other water sport enthusiasts to prevent abrasion and provide thermal insulation as well as assisting in resistance and buoyancy.
Hugh Bradner, a physicist from Berkeley had already invented many items and held patents for numerous inventions. His idea was to create a suit that could aid underwater divers and swimmers in general. His goal was fairly simple, design a wet suit for the military underwater swimmer. In a letter dated June 21, 1951, sent to Larry Marshall, Bradner wrote that "suits do not need to be watertight if thermal insulation is obtained by air entrapped in the material of the suit. The diver does not have to be dry to stay warm." Whilst Hugh Bradner was developing wetsuits for the US Navy, in doing so inspired Jack O'Neill to produce his own wetsuit for the purpose of surfing. Ever since these two ideas combined, wetsuits have been improved and revolutionised to suit almost any need on the market.
Improvements in design
Wetsuit history and wetsuit designs were fraught with misunderstandings of different materials and the first type of wetsuit was made from untreated strips of foam called neoprene (which is still used in wetsuits today) however instead of an inner lining, the wetsuits made in the 50's had to be powdered with talcum powder and were still delicate and tore easily. Eventually they became lined with nylon which decreased the sticky texture of the neoprene; however nylon decreased the flexibility of the wetsuit. It was not until the 1970's that double backed neoprene was being sewed together, it was simple but not very effective. The result of punching holes all the way through the double layers of neoprene opened the inside of the wetsuit to the environment. This resulted in lots of flushing through the seams so the result of this was new techniques in seam binding.
Wetsuit history indicates that many different techniques were employed over the evolution of the wetsuit design some of these were seam taping, seam gluing, and eventually blind stitching. Seam taping provided relief for some problems, this technique involved melting tape into the nylon which sealed the seam and prevented water from entering the suit. Seam gluing was another technique where they glued the slabs of neoprene together which resulted in a smooth, flat surface, however the neoprene and the glue was often not a strong enough mix and easily tore. The eventual outcome was blind stitching and this is the technique used predominantly in all wetsuit types and designs. The blind stitching technique is where a curved needle that is used for blind stitch sewing is designed to not go all the way through the neoprene but just under the surface of the material and comes back up on the same side. Using this technique, the neoprene is sewn together without having to puncture a hole through the entire piece of neoprene. As a result of this, no holes in the neoprene means no water flushing out the suit. Due to the nature of blind stitching, it creates a flat seam which increases the comfort of the wetsuit.
After world war two, sport diving became a popular past time in the United States, historians attribute this to popular movies such as "Frogmen", the Cousteau book and film adaptation of "The Silent World" and the magazine "Skin Diver" which was launched in 1951. This combined with the military surplus of diving materials which had previously not been available resulted in the advancement of wetsuits and wetsuit technology.
From wet to dry
Another advancement was the "dry suit" which worked in the opposite way to a wetsuit and kept the body completely dry. Dry suits during this period, were the only thermal protection available, however there were many problems and hurdles that had to be overcome regarding putting the dry suit on, this can still be a problem even today. Early dry suits had three methods of entry, one type of dry suit was known as a tunnel entry suit, another was known as a split seal, and the third was the neck seal.
The tunnel entry dry suits had a large tube located on the chest or upper back of the suit which the diver stuck his legs into the lower part of the suit then pulled the top over his head and arms. The tunnel was then twisted and sealed using a clamp or rubber tubing. The waist entry suits were comprised of a separate set of pants and jacket, which was made by Pirelli (the manufacturer of rubber tyres today). Both pieces came with excess material at the waist which was then folded together over a hard rubber cummerbund forming an effective seal by attaching a large heavy duty o-ring which squeezed the folded layers against the cummerbund. Neck seal suits were one piece suits similar in design to dry suits today but without a zipper. The top of the suit had a large enough opening for the diver to stretch over his entire body through and then using the separate latex neck seal, with a metal ring, the rubber at the suit opening was clamped against the metal ring creating a seal.
There were four major drawbacks to dry suits at this time; firstly none of the dry suit entry methods made it easy to use a dry suit. Secondly, the low pressure inflator mechanism had yet to be invented. Without this device, there was no way to equalize pressure inside the suit to adjust buoyancy and adjust or to prevent suit squeeze. Thirdly, the materials used to make dry suits were not durable and lacked the reliability and ruggedness of the dry suits made today. And lastly, the insulators that were used then were not as effective as the materials used in dry suits now. These days thanks to advanced technology and a continuing passion for water sports and an increase in commercial diving, dry suits are perfected in design, texture, and buoyancy control.
Modern wetsuits
Non-zip wetsuits were invented in 1989 . Modern materials such as lycra, spandex, and various forms of thermoplastic materials have pushed the boundaries in wetsuit design. Titanium is an example of a modern material which is being used in wetsuit design these days; it was first experimented with in the nineties and is now a regular feature of high end/competitive wetsuits. Titanium is woven throughout the wetsuit which helps retain a larger amount of body heat which creates maximum thermal insulation. Molded rubber, precision cutting, and securer seals are just some of the advantages to be found in contemporary wetsuits. In wetsuit history it can be evidenced that wetsuits have continued to improve, due to passion for water sports and advancement of technology. No doubt the wetsuits of tomorrow will be even sleeker, more comfortable, and more flexible than we can imagine.
Dive skins are used when diving in water temperatures above 25 C (77 F). They are made from Spandex or Lycra and provide little thermal protection; however dive skins or "rashies" are the ultimate protection against jellyfish stings, sunburn (having a SPF rating of 50) and abrasion. Dive skins are also used by divers who find that wearing a rashie or dive skin underneath their wetsuit makes it easier to put on and remove. Also, the barrier that the dive skin creates, can shield some water sports enthusiasts from skin problems caused by neoprene.
The extensive wetsuit history spanning more than 50 years has allowed people to explore the depths of water sports beyond anything that was thought possible. With humble beginnings in the laboratory of Hugh Bradner wetsuits have become dynamic, advanced, pieces of technology which show no evidence of slowing down. Anchor is proud to have been manufacturing wetsuits for over 49yrs We have been manufacturing wetsuits in Australia since the conception of this great industry, We have always searched for the best and latest of materials which has kept us at the top of the game for all these years>Our latest wetsuits are using the latest in stretch Neoprene products, you can browse our online collection at www.anchorwetsuits.com.au or visit our store in Hobart where our helpful, industry trained staff can help you with all your wetsuit needs.
We also provide a full range of custom making.
ANCHOR WETSUITS COMMUNITY SPONSORSHIP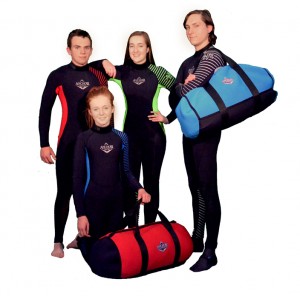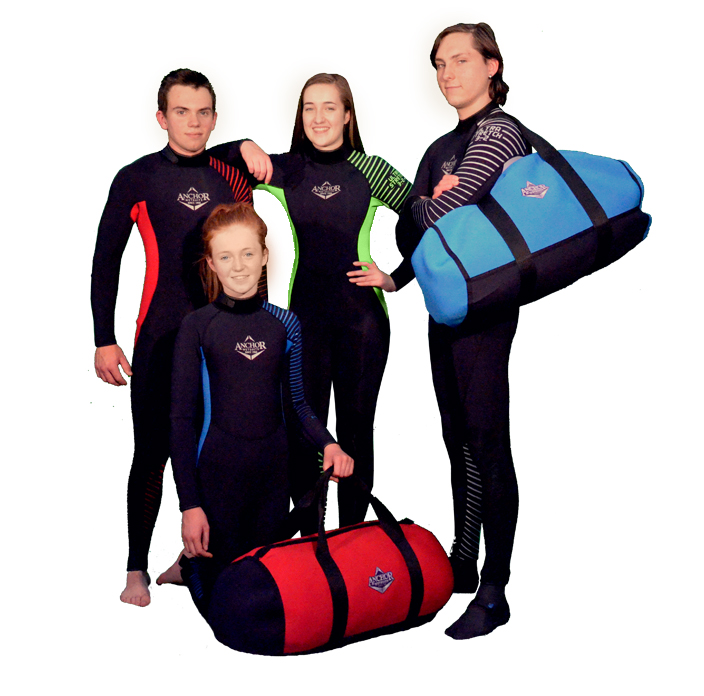 Over the past forty nine years Anchor Wetsuits has sponsored some major events, which including the following:
Bridge to Bridge Ski Race, Hawkesbury River, Sydney.
Victoria Water Ski Show Division – Moomba, Melbourne.
Seoul Olympics – Water Ski Show Division.
Opening Day Motor Yacht Club (Lindisfarne) for the past 10 years
We have also sponsored individuals in boat racing,surfing,wake boarding,diving,water skiing,jet skiing,and many other water sports.
We believe in continue sponsorship of people and events to further grow these fantastic sports.